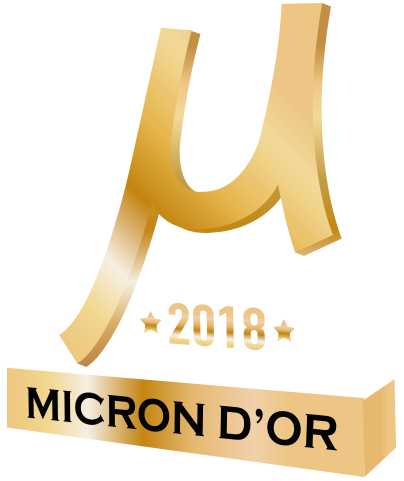 VUICHARD Michel Ltd. has always been a pioneer in the 5 lines of business where the company operates today. In each of them, the company offers very high-precision services and micromachining.
High-precision micro-cutting
The company has invested €600,000 in a laser micro-cutting machine unique in France and Switzerland. This machine, combined with a  with a 2 000 magnification microscope, allows the production of very high-precision parts.
For parts with a thickness of less than 0.4 mm, our laser cutting is, in most cases, better than an  EDM wire cutting with 6 trim cuts. The standard cutting width is 37 microns and can be reduced to 27 microns.
Cutting speed combined with a burr-free process, a Ra of 0.3, perfect verticality, have allowed the VUICHARD company to expand into the watchmaking component manufacturing market (cams, wheels, springs, dials, appliqués, pointers, hands, pallets, escapement wheels, etc…).
Unlike electro discharge machining, laser cutting does not cause contamination (copper, zinc, tungsten) on the surface of parts. This is very important for implantable medical components, vacuum applications, clinical interactions…
Die sinking EDM
Die sinking EDM was performed from the very beginning of the process by using Charmilles Technologies prototype machines altered to machine parts that meet our customers' requirements : low wear, fine surface finish, micromachining, mass production (2,000,000 parts), 4-axis machining on turbine blades. Today, the company is able to make electrodes 10 µm wide and 20 µm cavities. On a surface area of Ø 1 mm, up to 50 electrodes may be used to carve a few microns wide details…
Die sinking EDM is very useful for making artificial defects on customer parts. These defects often simulate metal cracks and should be as small as possible. Slit widths usually range from 20 μm to 150 μm. Slits are used to calibrate eddy current probes, whereas holes machined with a flat bottom are used to calibrate ultrasonic testing equipment.
Wire cutting
Wire cutting was used extensively very quickly because it revolutionized precision engineering processes and it has eventually become widespread today. The company has a real know-how in the use of fine wire (Ø 0.02), high precision, punches, precision drought, fine surface roughness (Ra 0.16 on wire then Ra 0.025 after polishing).
Micro-drilling
In the field of micro-drilling, the company has invested in three Sarix machines while this manufacturer is just beginning to market this type of machine to make holes from Ø 1 to 0.03, with exceptional edge quality. Today, micro-drilling is a real line of business with two set-up men and about fifty customers.
Hard metal 5-axis micro-milling
As regards 5-axis hard metal micro-milling, while most of experts in hard metal milling master 55 HRC steels with minimum cutter Ø of 0.5, the VUICHARD company has invested in a machining centre unique in Europe to be able to use Ø 0.05 cutters on 65 HRC. Our expertise spans a complete chain of very high precision : Programming in 5 axis coordinated simultaneously with Open Mind (Hyper mill), 5-axis MATSUURA LXO machine, 60,000 rpm spindle, 0.0001 µ travel, Blum Pico sensor, Nano Laser. Machinable materials are hardened steel, copper and Sparkal for electrodes, titanium, Inconel, Hastelloy, cobalt-chromium, non-sintered zirconia, molybdenum, sintered tungsten carbides, sintered ceramics machinable with diamond tools etc….
In addition to these 5 main lines of business, our expertise also includes some more specific micromachining areas :
Tool polishing
Tool polishing on steels with hardness greater than 60 HRC and on tungsten carbides. High-precision polishing in accordance with very narrow tolerance extent and micro-surface polishing.
Coordinated grinding
Coordinated grinding for complex shaped and very high-precision parts with very fine surface roughness
EDM micro-turning
Electro-discharge machining does not generate cutting forces, so it is possible to turn parts with a minimum diameter of 20 microns.
pioneers
of electro-discharge machining
since 1967
With about ten employees and a workshop of about twenty machines, the Vuichard company has been operating in the field of EDM (Electro-Discharge Machining) for more than 45 years. The Vuichard SAS micromachining company is located 20 minutes from Geneva, in France, close to the Franco-Swiss border.